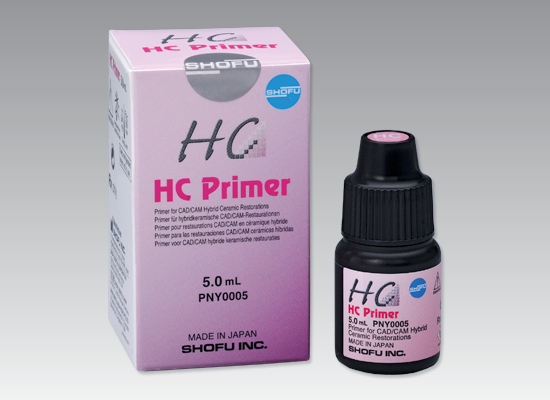 CAD/CAM Materials
HC PRIMER 5ml
---
Bonding system for all hybrid-ceramic CAD/CAM restorations
HC Primer provides the perfect surface pretreatment for reliable adhesive bonding of SHOFU Block HC and Disk HC, plus all other hybrid ceramics. Thanks to its innovative composition, this primer penetrates the matrix of hybrid ceramics; on the other side, it forms a durable bond to adhesive resin cements.
Benefits
Pretreatment of the bonding surfaces of CAD/CAM restorations
Strong, durable bond to hybrid ceramics and resins
Optimal wettability
Universal applicability
Easy application with a brush
Quick handling (apply, air-dry, light-cure)
Indications
Pretreatment of hybrid-ceramic CAD/CAM restorations
HC Primer infiltrates the polymer matrix, ensuring strong micro-mechanical retention between primer and restoration – without the risk of inclusions or bubbles.
Thanks to optimal wettability, the primer creates a durable base for adhesive cementation with ResiCem.
Info
For adhesive cementation of CAD/CAM restorations, we recommend the use of dual-cure resin cements, such as ResiCem universal luting composite system.
---
Please Login to see Prices